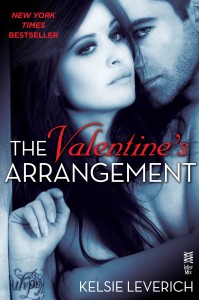 The Valentine's Arrangement
by
Kelsie Leverich
Series:
Hard Feelings #1
Published by
Intermix
,
Penguin
Publication date:
January 1, 2013
Genres:
Contemporary Romance
Narrator:
Abby Craden
Length:
5 hrs and 59 min
195 pagesFormat:
Audiobook
Source:
Purchased
The "emotional, spicy-hot story" (Belle's Book Bag) that propelled Kelsie Leverich to the New York Times bestseller list!

Tattoo artist Ronnie Clark is counting the days until Valentine's Day is over. Ronnie doesn't do romance. She doesn't do flowers or dates, and she sure as hell doesn't do love—not anymore. Love leads to heartbreak, and she's vowed never to let herself get hurt again.

Sergeant First Class Kale Emerson is home on his mid-tour leave from Iraq, but he only has one thing on his mind—returning to his soldiers to finish leading their mission. He's dedicated to his men and to his country, and he's not interested in getting wrapped up in a distracting relationship…but casual sex, that's a different story. From the moment he sees Ronnie, he wants her. And he agrees to her terms—no romance, no fluff—just passion.

But as their sexual chemistry ignites, the lines of their arrangement get blurry, and Ronnie starts to push Kale away. And when Kale realizes he's found his match in this razor-tongued, gorgeous woman who is hell bent against love, winning her heart could be the toughest battle he has ever fought.
Affiliate Disclosure: This post contains affiliate links. In plain English, this means that I may receive a small commission (at no cost to you) if you purchase something through the links provided. This small income goes back into my blog, so I can continue to create fun content for you. I appreciate my readers and make it my goal to be upfront and honest. Thank you for supporting my blog!
Review:
I was in the mood for a military-themed romance and saw that I had this one in my audiobook library. This book was entertaining, but overall I just thought it was okay.
Ronnie Clark is a sassy tattoo artist who doesn't do relationships. After her last boyfriend broke her heart, she has sworn off men. I liked that she didn't take crap from anyone, including a hot soldier named Kale in her tattoo chair. Kale is home on leave from Iraq and he is looking for a lady for a good time, not thing serious. But this fiery, spirited, sharp-tongued woman left Kale wanting more and Ronnie rethinking her ban on men.
I struggled with the latter part of the book. Just as Kale goes off to war, he confesses that he wants more from their arrangement. It's not until Kale gets hurt that she runs to him and says she wants more too. Oh and then his leg is all injured enough to where he can't walk but not hurt enough for them to have sex. What?
This one had that sort of hate-to-love vibe to it. Ronnie is rough and takes every chance to insult and sass Kale. And she enjoyed ruffling his fathers (and so did Kale). This novella is your classic "no strings sex" to something more, which I enjoy reading. But I didn't think this it really brought anything new to the table.
2 stars