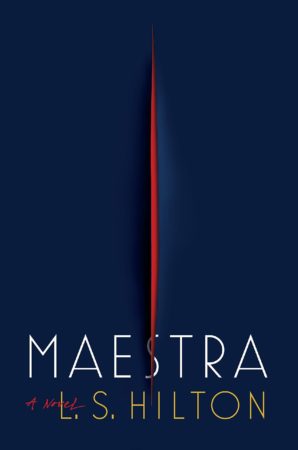 Maestra
by
L.S. Hilton
Published by
G.P. Putnam's Sons
Publication date:
April 19, 2016
Genres:
Thriller
Narrator:
Emilia Fox
Length:
10 hours and 20 minutes
309 pagesFormat:
Audiobook
Source:
Publisher
A shockingly original thriller - the launch title of Zaffre, the new fiction imprint of Bonnier Publishing Fiction

Judith Rashleigh works as an assistant in a prestigious London auction house, but her dreams of breaking into the art world have been gradually dulled by the blunt forces of snobbery and corruption. To make ends meet she moonlights as a hostess in one of the West End's less salubrious bars - although her work there pales against her activities on nights off.

When Judith stumbles across a conspiracy at her auction house, she is fired before she can expose the fraud. In desperation, she accepts an offer from one of the bar's clients to accompany him to the French Riviera. But when an ill-advised attempt to slip him sedatives has momentous consequences, Judith finds herself fleeing for her life.

Now alone and in danger, all Judith has to rely on is her consummate ability to fake it amongst the rich and famous - and the inside track on the hugely lucrative art fraud that triggered her dismissal.

Set in the exotic palaces and yachts of Europe's seriously wealthy. With a heroine as wickedly perceptive as Amy Dunne and as dangerous as Lisbeth Salander, this marks the beginning of a sequence of novels that will have readers around the world on the edge of their seats and holding their breath.
Affiliate Disclosure: This post contains affiliate links. In plain English, this means that I may receive a small commission (at no cost to you) if you purchase something through the links provided. This small income goes back into my blog, so I can continue to create fun content for you. I appreciate my readers and make it my goal to be upfront and honest. Thank you for supporting my blog!
Maestra is an erotic thriller featuring a femme fatale who gives no apologies for her murderous ways. She wants what she wants and she takes it. I saw this book everywhere, as it was being heavily marketed and promoted by the publisher. So I decided to give the audiobook a try, even after seeing the less-than-stellar reception by readers. This book was definitely not for me but it may appeal to other people.
Judith lands a job at one of London's most prestigious art auction houses. Barely making it on her salary, her friend hooks her up with a new job at a champagne club that caters to very wealthy customers. She's an Oxford graduate and very intelligent, but that tout doesn't really mean anything to her superiors at the art house who treat her very poorly. She discovers her boss, Rupert, is planning on selling a forged piece of art but is promptly fired by Rupert when he discovers that Judith knows his plans. She uses the one thing she has left—her powers of manipulation and sex appeal—to convince one of her wealthy customers to take her and her friend on a trip to the French Riviera. But the mix of sedatives they put in James's drink does more than subdue him, it kills him. Judith isn't sorry and instead gets a thrill and sense of power. What follows is Judith's uprising into a murderous sex goddess, traveling all around Europe seducing and killing men to amass a fortune and get back at Rupert.
As far as Judith's character, I found her to be dreadfully dull, outside of her adventurous sexual proclivities. I don't mind unlikable characters, but I do need to understand them and find them compelling. With her, we were given a back story and I suppose we are to believe that Judith is power and money hungry because of her upbringing. That she's driven by money and material things because she's never had them. However, I couldn't care less what kind of "Zara" dress she had to pair with what designer accessory to make it look more expensive. To me all of this brouhaha made her come off as shallow. I've read and loved books with extremely shallow, self-absorbed leads before, but Judith was not compelling in the least bit.
Judith's voice wasn't all that interesting either. Judith's favorite word was the word cunt—it seemed like she used it every chance she got. Personally, I am not a fan of that word. But if it must be used, put it in there for a reason, not just to make your character edgy. I wish we had been given a character who was more questionably crazy, that would leave the reader rooting for her.
Many reviewers have mentioned that this book was tasteless, raunchy and disgusting. While I wouldn't go that far, it was far from good. I liked the backdrop of the art scene and the various European settings, but that was really it. This is the first in a series of books with this character, but I'm getting off the train at this stop.
* I received a copy of this audiobook from the publisher in exchange for an honest review.