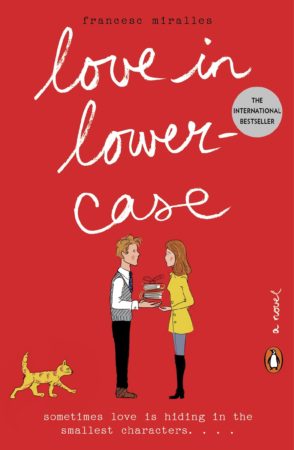 Love in Lowercase
by
Francesc Miralles
Published by
Penguin Books
Publication date:
January 26, 2016
Genres:
Literary Fiction
Narrator:
Scott Aiello
225 pagesFormat:
Audiobook
Source:
Publisher
A romantic comedy for language lovers and fans of The Rosie Project, about a brainy bachelor and the cat that opens his eyes to life's little pleasures

The Silver Linings Playbook author Matthew Quick:
"A delightfully absurd, life-affirming celebration. I literally stood up and cheered as I read the last page."

When Samuel, a lonely linguistics lecturer, wakes up on New Year's Day, he is convinced that the year ahead will bring nothing more than passive verbs and un-italicized moments—until an unexpected visitor slips into his Barcelona apartment and refuses to leave. The appearance of Mishima, a stray, brindle-furred cat, becomes the catalyst that leads Samuel from the comforts of his favorite books, foreign films, and classical music to places he's never been (next door) and to people he might never have met (a neighbor with whom he's never exchanged a word). Even better, the Catalan cat leads him back to the mysterious Gabriela, whom he thought he'd lost long before, and shows him, in this international bestseller for fans of The Rosie Project, The Solitude of Prime Numbers, and The Guest Cat, that sometimes love is hiding in the smallest characters.
Affiliate Disclosure: This post contains affiliate links. In plain English, this means that I may receive a small commission (at no cost to you) if you purchase something through the links provided. This small income goes back into my blog, so I can continue to create fun content for you. I appreciate my readers and make it my goal to be upfront and honest. Thank you for supporting my blog!
Love in Lowercase is a cute novel about how small inconsequential things can have a big effect in our lives.  In Samuel's case, it was a stray cat changed his whole life. Admittedly this book, while short, was one that didn't hold my interest and the love story felt awkward.
Samuel is a lonely linguistics professor whose life is one of structure. He does the same thing everyday until a stray cat interrupts his happily mundane routine. This cat is the catalyst for change and turns his little world upside down. He meets his next door neighbor—an book editor—who he's never spoken to. This encounter leads him to Gabriela, the girl he fell in love with as a boy. He then meets an eccentric man named Valdemar who's more concerned with conspiracy theories than his own reality.
This book had his charming moments, like Samuel's interactions with his neighbor and his own internal musings on what to do when in love. It's filled with literary and musical references, showcasing Samuel's great love and appreciation for both.
I didn't really find this book to be "haha" humorous, but more amusing and quirky. Many reviewers have said maybe the humorous nature got lost in translation. That may be, but I think the humor and charm is in the eccentric characters, the connections, and the idea that a cat can turn this loner's life into something greater. What I took away from this book is the idea that there is magic in the mundane simplistic things of life, and I liked that.
My main problem I had with this book was that I just wasn't ever truly engaged in the book. But the love story was a part of that journey and it was so very strange.
Samuel had only seen Gabriela once as a boy and fell in love with her instantly. Several years later, he sees her walking down the street and realizes that he's always been in love with her since he was a little boy and will only ever love her. This didn't seem believable to me. I'm not saying that this sort of thing can never happen in real life; the author just didn't make me believe it here. Further, Samuel's internal struggle with his deep-seeded love for Gabriela felt almost creepy, especially when Gabriela didn't remember him.
The love story is very much secondary to Samuel's own self-discovery, which I did appreciate. This book was quirky and cute in moments, but it won't be one that I will revisit in the future.
* I received this audiobook from the publisher in exchange for an honest review.