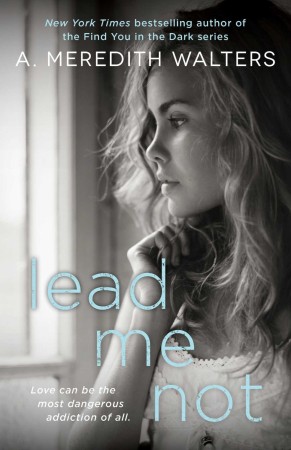 Lead Me Not
by
A. Meredith Walters
Series:
Twisted Love #1
Published by
Gallery Books
Publication date:
August 5, 2014
Genres:
New Adult
,
Romance
Narrator:
Sebastian York
,
Shayna Thibodeaux
Length:
12 hrs and 3 mins
400 pagesFormat:
Audiobook
Source:
ARC via publisher
In this dangerously sexy novel from the New York Times bestselling author of Find You in the Dark, a straight-laced college student meets a handsome but enigmatic stranger who lures her into an underground club scene, where she finds it difficult to resist temptation…

Aubrey Duncan understands loss. She knows what rock bottom looks like, and she is determined to crawl back up to the top after the sudden death of her younger sister. She blames herself for her part in the tragedy, convinced that she could have done something, anything, to help her.

In her effort to gain redemption, Aubrey starts fresh at Longwood University and facilitates an addiction support group, hoping she can support someone else in the way she failed her sister. But what she doesn't count on is an all-consuming fascination with group member Maxx Demelo, a gorgeous, blond, blue-eyed enigma who hides dark secrets behind a carefully constructed mask. He only reveals what he wants others to see. But Aubrey glimpses another Maxx hidden below the surface—a Maxx who is drowning in his own personal hell.

As Aubrey and Maxx develop an attraction too intense to ignore, he pulls her into the dark underbelly of the city club scene, where she is torn by her desire to save him and an inexplicable urge to join him in his downward spiral. Worst of all, she is beginning to love everything she should run away from—a man who threatens to ignite in her a fire that could burn her alive…
Affiliate Disclosure: This post contains affiliate links. In plain English, this means that I may receive a small commission (at no cost to you) if you purchase something through the links provided. This small income goes back into my blog, so I can continue to create fun content for you. I appreciate my readers and make it my goal to be upfront and honest. Thank you for supporting my blog!
Book Review:
Lead Me Not is the first book I've read by author A. Meredith Walters. While I want to read her other books, I don't think I'll be continuing with this series. Aubrey and Maxx's relationship, as passionate as it was, wasn't particularly romantic to me, but perhaps it's due to the addiction storyline.
The story centers around aspiring counselor and college student Aubrey Duncan and the man in her support group, Maxx Demelo. Years ago, Aubrey lost her sister to a drug overdose and now she uses that tragedy to help others battling the same addiction. Along with a fellow faculty staff member, Aubrey co-facilitates a drug support meeting. There, she meets Maxx Demelo, who can't seem to keep his eyes off of her. Outside of these meetings, the universe clearly wants them to get to know one another because they run into each other.
She and her best friend Brooks frequent a local underground club and major drug selling operation to make sure her roommate, Renee, is safe. At the club she meets this mysterious guy, to whom she feels this sizzling magnetic pull, but she is unable to see his face. Each time, he saves her from a potentially dangerous situation.
This story is the classic good girl meets bad boy story. Maxx has a lot of baggage. His mother passed away and his father squandered all of the money Maxx gives to support his little brother Landon. Weighed down with responsibility, Maxx started selling drugs to help his brother and then using them to help his trouble mind. Aubrey and Maxx spend more time outside of group together and fall hard for each other.
Supposedly, Aubrey has experience working with drug addicts and even lost her sister to addiction, yet she finds herself knee-deep in an unhealthy relationship that begins to spiral out of control. I think the author was trying to show the reader that sometimes the person you love isn't perfect, but here I just didn't understand what Aubrey saw in Maxx. Aside from Maxx's determination to care for his brother, I found very little appealing to his character.
When Aubrey sees the "mysterious" man at the club, she can't stop thinking about him, but her draw to him wasn't even explained. The reader was asked to accept it. Further, when Aubrey sees Maxx in support group she obsesses over what he would be like in bed. What? Why? Their chemistry felt manufactured, rather than organic and I couldn't become invested in their love story. Their relationship went from nothing to sex with little build up.
I guess the point of this story is to showcase the power of love against the odds. Lead Me Not, while showcasing a realistic portrayal of addiction, seems to romanticize the message of "love can change him" and I didn't like that.
After finishing this book, I have an idea where the sequel, Follow Me Back (Amz: US • UK • CAN | iBooks | GR), will go, but I don't think I'll continue the series. This story could have easily been wrapped up in this book, especially considering this was a very long book. Both characters went through enough and I am not really interested in witnessing more drama between the two of them.
Audiobook Comments: I love Shayna Thibodeaux (a.k.a. Candace Thaxton) and Sebastian York. I thought Shayna's narration was spot-on and wonderful. I think Sebastian's performance was done really well. However (I can't believe I'm going to say this), I don't think Yorkie's is right for all new adult/college age romances. He sounded a little too mature for Maxx's voice, but he did a wonderful job.
2 stars
Amazon: US • UK • CAN | iBooks | GR
* I received this audiobook from the publisher in exchange for an honest review.